it's that time of the year again- fall.
the best season of beautifully-colored leaves, the weather fresh, crisp, and just cool enough to have an outdoor bbq session with the most awesome samgyeopsal (bbq pork) and hopefully, a piping pot of xin ramen. then of course, if you know the koreans, autumn is also never complete until one goes for a leisurely hike through the mountains to catch the autumn foliage.
families, friends, colleagues even- they'll take weekend breaks and make camping trips, armed with their overnight sleeping tents and outdoor cooking gear, because everyone wants mini holidays but great memories (and all in the comfort of their own country too!)
so if you're headed there these coming weeks, why not join the locals and make time to visit some of korea's best nature spots too? you'd be awed, i promise :)
now before you change your mind, please let me confess very honestly that i didn't think i'd be fit enough to conquer any mountain too (and i still haven't, actually). but korea has the ability to make you do things you'd normally not do, so when i was there this time last year, i actually followed my homestay family up namsan one cool evening, thinking that i'll probably reach the peak in record time, because i am young and healthy, aren't i?
well, the truth was, while i puffed and huffed my way up, healthy ahjummas and ahjusshis sped past me like THEY were the young twenty-somethings instead, and i of course, had to hang my head in shame, while inwardly cursing my useless legs. still, the entire experience changed my life (dramatic, as it may sound) and i've repeatedly visited namsan throughout my stay there. and the hikes weren't easy, but when you reach some level above the sea, you'd be glad you made the effort in the first place.
so here are three recommendations (but there are so many in korea!!), so maybe you'll also discover some life-changing experience too!
namsan
view from namsan
probably the most famous among tourists and easily accessible (because it is right smack in the middle of seoul), namsan is one of the best places to visit for breathtaking views of downtown seoul. not only are there various walking paths available for leisurely strolls, driving courses are apparently very popular among dating couples; and once you reach the summit, there's the palgakjeong pavilion (an octagonal hall) and seoul tower, where you can enjoy paranomic views of the city landscape.
so there are tons to be done at namsan, where one can head to the national theater, the namsan library, the namsan park or even the nearby
namsangol hanok village
, but i'll highly recommend simply talking a walk along the 7.9km walking trail to breathe in the good air and enjoy korea's nature, wild flowers and pine trees.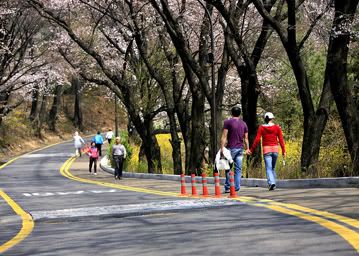 namsan's walking trail. source: hi seoul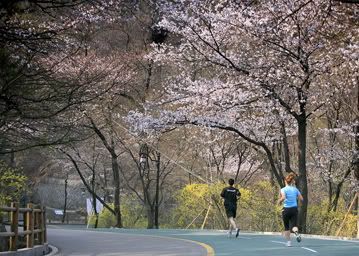 a popular spot for sports enthusiasts. source: hi seoul
driving course, at night. source: hi seoul
what i like also, is namsan's history: it used to serve as a smoke-signal station during joseon days, where fortresses were built to protect the capital from invasions. so it's like re-witnessing history when you visit the seoul fortress wall, and visitors have to present their passports for clearance before going on the guided tour (but this is slightly further away from namsan park itself, so you'd have to travel a little- a fellow blogger blogged about it at
discovering korea
).
so anyway, if you're headed to seoul for only a couple of days, and are deciding between limited destinations, i'd say not to miss namsan even if you think you're not into all that nature stuff, because it'd be a great escape from the hustle and bustle!
for more background information and directions to namsan park, you can read up at:
1.
korea tourism website
2.
life in korea
3.
parks of seoul
4.
hi seoul
suraksan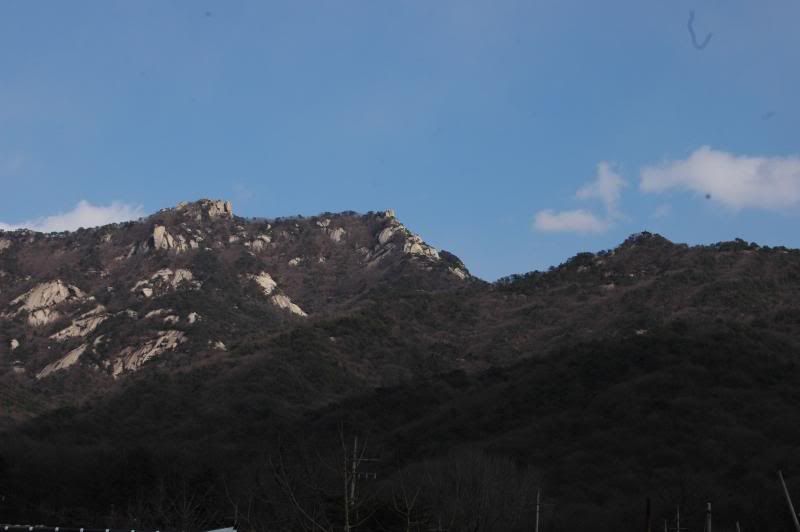 source: chrisinsouthkorea.com
not to be confused with its more famous cousin (seoraksan, the third highest mountain in korea), suraksan is located in gangwon-do and is one of the more easily accessible mountains, as visitors can simply take the metro from seoul to get here. as such, it is a very popular spot among many for daytrips (in fact, i think the singaporean seoul club recently just hiked their way up!)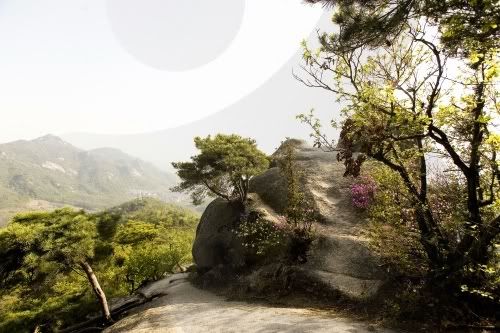 source: kto
source: kto
so i personally haven't been myself, and i'm not going to try and pretend otherwise. but during my research, i read of people raving about beautiful valleys, awesome views, friendly fellow korean hikers, the beautiful seoklimsa temple and buddha figurines (all of which/whom i really want to visit/meet/see!)
and i'll save you the trouble of sloughing through endless websites, here are some of the best written on suraksan:
1.
chris in southkorea
(very detailed directions on how to get there)
2.
jeon0555
(beautiful pictures of the hike)
3.
kto website
(good information on the various trails available, contact information, and the blackout dates so you won't go and be disappointed)
and my favorite of them all:
4.
summerinseoul
(HILARIOUS account written by an american grad student, and i like how he shared his experience interacting with the koreans- and see it's true, koreans are the friendliest people around!)
seoraksan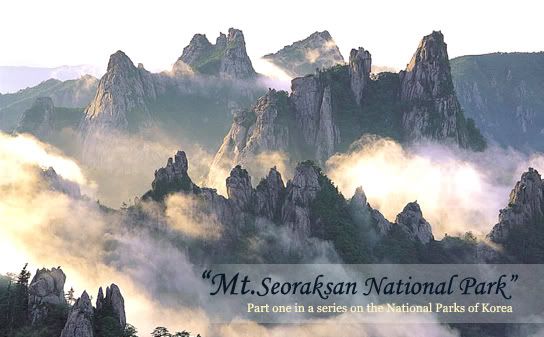 source: kto
if you religiously follow 1Night2Days (like me!), you'd remember that episode where the members split up to go on different trails up seoraksan, and it was so challenging they had to stop several times along the way, but when they eventually reached the peak to see the sunrise the next morning, it was so beautiful all the members cried. (i was really touched by that episode, btw, and am determined to visit it next year with my friends- we are planning for mid-oct 2012 so if anyone's genuinely interested, email me!)
so you'd know that seoraksan has multiple hiking courses, valleys and many cultural artifacts hidden within its valleys (wikitravel and the countless online tributes will show!), but did you know that it has also been designated as a preservation district by UNESCO since 1982, and houses thousands of animal and rare plant species? and that it is named seorak, because the snow on the mountain would not melt for a long time, keeping the rocks in a permanent state of white?
but anyway, i'll let pictures do their thing (all sourced from kto):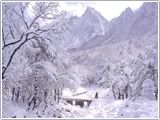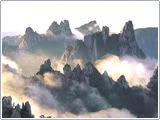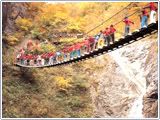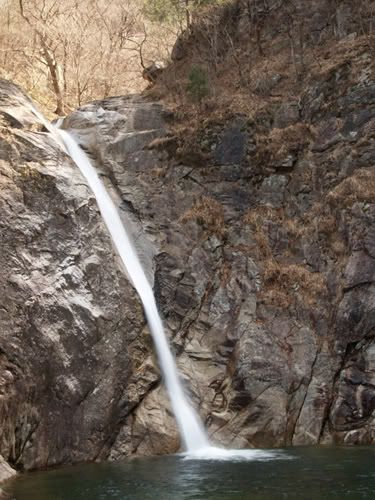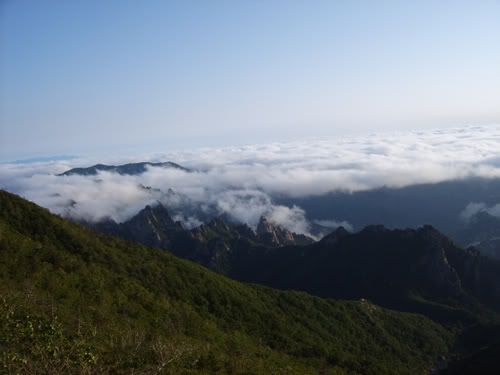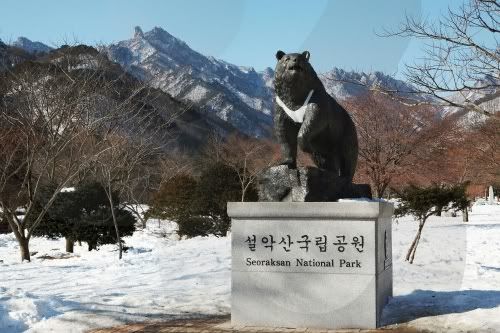 and do not just take my word for it, wikipedia also says that the "main season for seoraksan national park is autumn. the autumn colors in the area are considered amongst the most beautiful in korea. the red and yellow forest is interrupted by rocks and small mountain streams flow amidst this" (to see the entire article, visit
here
)
then, i'm also reading about the scenic waterfalls, majestic rock formations, the seorak valley of thousand buddhas, and obviously, the beautiful beautiful hiking trails. and if you're thinking of heading to seoraksan too, here are some very useful sites provided by the korean tourism organisation:
1.
kto seoraksan
: basic info, contact details and blackout dates
2.
kto trailroutes
: trail routes, difficulty levels of the courses, and directions
and don't worry about accommodation too, apparently there are adequate camping grounds, and even lodgings ranging from luxury hotels to smaller hotels to youth hostels!
so do climb a mountain when you next visit korea. despite it all seeming slightly crazy, you'd soon realise that most mountains are actually very people-friendly, with carefully-built trails, clean and well-kept toilets (some even playing classical music to accompany you in the loo!) and strategic rest-stops for the novice, like you and me.
and if all else fails, ask. you know the koreans'll help :)